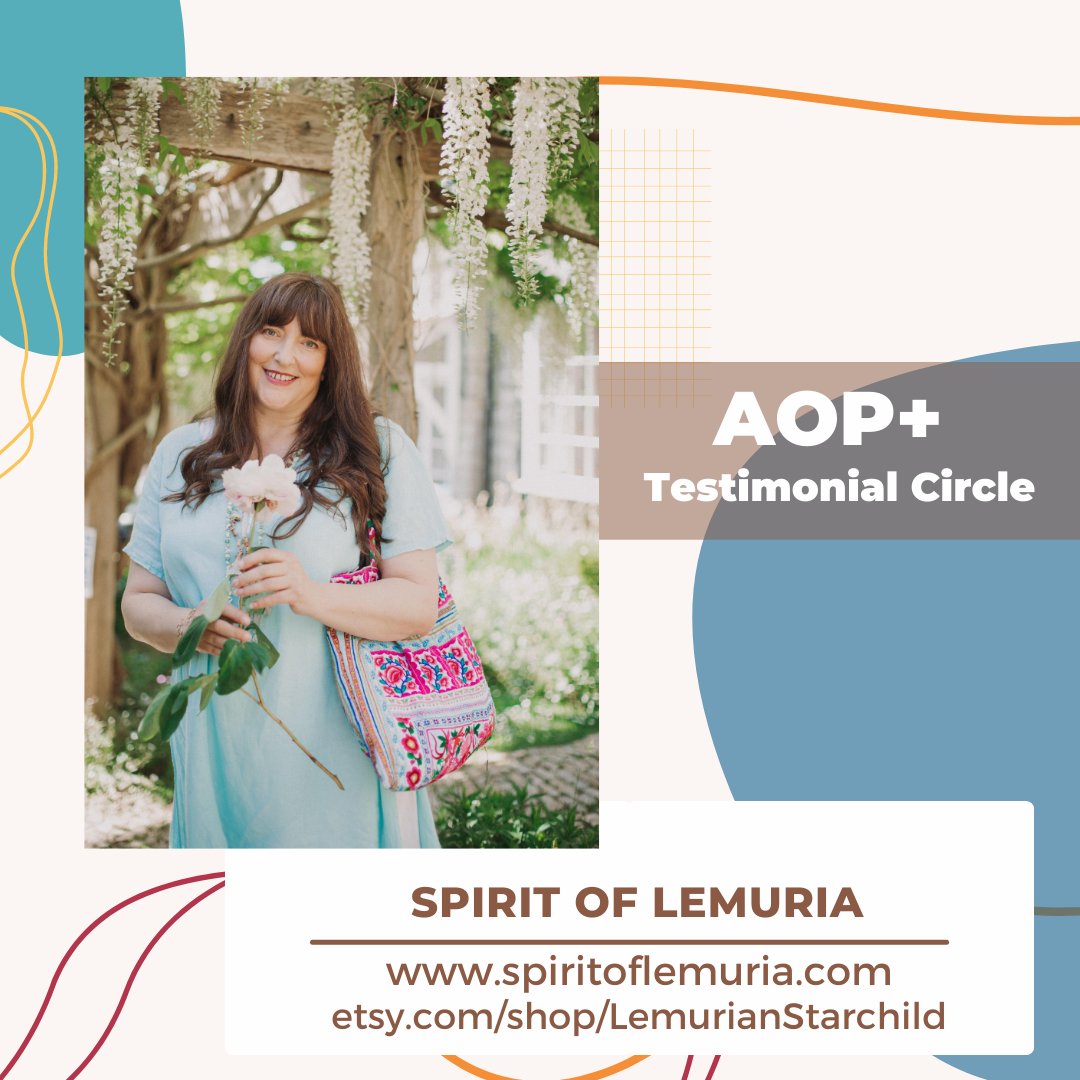 AOP+ Testimonial: Spirit of Lemuria
"My heart and soul needed time out from giving and holding space, in order to rebalance." said Leanne, owner and designer of the prints, card decks and other print-on-demand products for LemurianStarchild on Etsy.
Leanne loves art and has been into art ever since, she even went to art college. This paved way to her healing from being burnt out from her career as a clinical psychologist. While in her healing process, she has been given opportunities to turn her arts into business.
Behind the Spirit of Lemuria
"My business is called Spirit of Lemuria and it encompasses an oracle card deck I made and published with my partner, The Lemurian Starchild Oracle, and all my artwork, on prints, cards and lots of lovely products from AOP+." Leanne explained. " Our Etsy store is called LemurianStarchild."
When asked how long she has been doing this, she said, "I have been doing this since leaving my career in the NHS in 2017. I only discovered AOP+ a year ago and that has been such a wonderful blessing in my life."
Taking the Leap of Faith
Leanne decided to switch careers and focus more on herself, her heart and her soul. There have been bumps on the road to her healing but it did not stop her from doing what she loves, art.
"I chose to switch careers because I was a bit burnt out from being a clinical psychologist to be honest. My heart and soul needed time out from giving and holding space, in order to rebalance. Creating the Oracle card deck supported my healing process, and then a few weeks after finishing it and sending it to the printers, I had an aneurysm rupture, had a severe brain hemorrhage and nearly died in May 2019! I was in ICU and hospital for nearly a month and have been on a journey of recovery from severe neurofatigue and diffuse brain injury since then. Doing art was all I could do for the first 2 years, as I could do it on my iPad, lying down. Being able to sell it has been an absolute Godsend." She narrated.
Starting a Print on Demand Store
As many of us do, finding the right print on demand partner can be tedious. Leanne had tried other print on demand companies before and told us, "I hadn't had much success because they were so expensive, leaving any profit margins too small, and the retail prices were still unattractive for customers."
"I did a search for the 10 best Print on Demand companies and checked them all out. After researching them all, I only signed up with AOP+ and did it straightaway! I couldn't believe how good they looked!" She narrated.
"After figuring out how it all worked with their system, I was well away, making lots of art into collections. I LOVE AOP+ so much in so many ways, I'll have to make a list of why!!" She said in delight.
I love how uploading one high-res image and just positioning it on the different products, then batch uploading to Etsy grew my inventory quickly there, getting me much higher up the search rankings.
I love their 24/7 chat with real, lovely, helpful people! I often had insomnia from the haemorrhage and would ask a question without realising the time, and they'd reply and be so lovely and professional.
They are a very friendly, helpful company, and Uygar the 'head honcho' is so approachable and down to Earth. The company is very responsive to feedback, tweaking and improving things all the time.
The prices, customer support, wholesale order processes are so much better than the other companies I'd tried. The print quality is second to none and the products are really great quality too. They are expanding it with more eco products all the time too, which is important to me.
They are also expanding the product line to wall art and I'm really excited about the latest art canvases and prints they're offering, and the all-over-print cut & sew cotton-feel tee shirts and sweatshirts they've added.
My best-selling product from AOP+ is the bandanas. My niche area had a gap in the market – for high-vibe spiritual Altar Cloths, with the market being full of only dark coloured 'witchy' ones which weren't my cup of herbal tea (lol). I design art with beautiful colours and sacred geometries which customers use in their spiritual practice as decoration for their home altars, or as a place to arrange crystal grids for healing and meditation purposes. I also use them as a background for taking lovely pictures of Lemurian Starchild Oracle readings for social media.
I am now selling these bandanas/ altar cloths and other products wholesale, internationally, as well as supplying local shops in Glastonbury and Avebury UK.
The team are absolutely amazing and recently even pulled out all the stops to help me get a wholesale order done for a Mind Body Spirit show, which they produced, shipped and I received in about 4 days!
I have had excellent 5 star feedback on these products, saying the colours, quality and speed of arrival are excellent. There have been requests for a refund only a couple of times, out of over 1000 AOP+ products sold (retail and wholesale), where there was a minor print imperfection. AOP+ refunded or replaced straight away on seeing the photos and were so apologetic.
They process and ship orders in under 7 days, very reliably.
They offer a great membership with a free tier, and two more where you get either a 5% or 10% discount on all orders. Wholesale orders of 100 or more get a further discount.
They are expanding their integrations from Shopify and Etsy, to Amazon and EBay next year! That's very exciting!
When asked if she would recommend AOP to her friends and other store owners from Shopify and Etsy, she answered, "I have recommended AOP+ to arty friends and family. In a way I've wanted to keep AOP+ to myself as far as social media goes, because it's given me an advantage in terms of price, products and quality, but they're actually so good and such lovely people I want to help them grow their business too, as they've so helped me grow mine."
"Maybe an affiliate referral program would encourage more of AOP+ customers to share their super-valuable secret contact! There's room for all of us artists to be successful as we are all offering something unique, which people need more than ever in these strange times we live in." She suggested.
The Icing on the cake
Leanne expressed her desires for further improvement from the AOP+ app. "The app they've created is hopefully going to be getting an upgrade because currently the 2 integrations they offer require a separate upload of art, positioning and pricing for each platform, which is time consuming if you have a shopify shop AND Etsy store, as I do." Told Leanne.
At the moment, their excellent delivery profiles only work with Etsy which can be a bit of a headache for me with my shopify store, because since the brain hemorrhage, technical difficulties can rather 'buzz' and overwhelm my brain!" she said.
"As far as thinking what would be the icing on the cake…. it would be great to see an inbuilt pattern creator where your seamless pattern can be tiled, half-dropped or mirrored etc. I'd also love an iOS iPad app with the same level of functionality as a PC, as currently I can't position images, only change size, in my iPad browser." She recommended.
Thank you, AOP+
"I just want to say a huge thank you to Uygar and all the team. I think you're all truly amazing and I'm so happy I found you! Many Blessings, Leanne x" She said lastly.
---
Connect with Leanne and the Spirit of Lemuria on Facebook and Instagram
Instagram:
@lemurian_starchild_oracle
@spirit_of_lemuria
@ta_iki_anawa
@altar_cloths1111
Facebook:
@LeanneTaIkiAnawa
@lemurianstarchild
Be sure to check their Shopify and Etsy store too!
---
Want to be part of our Testimonial Circle? Reach out to us at [email protected]. We'd love to hear your story. Help us inspire other business owners like you!