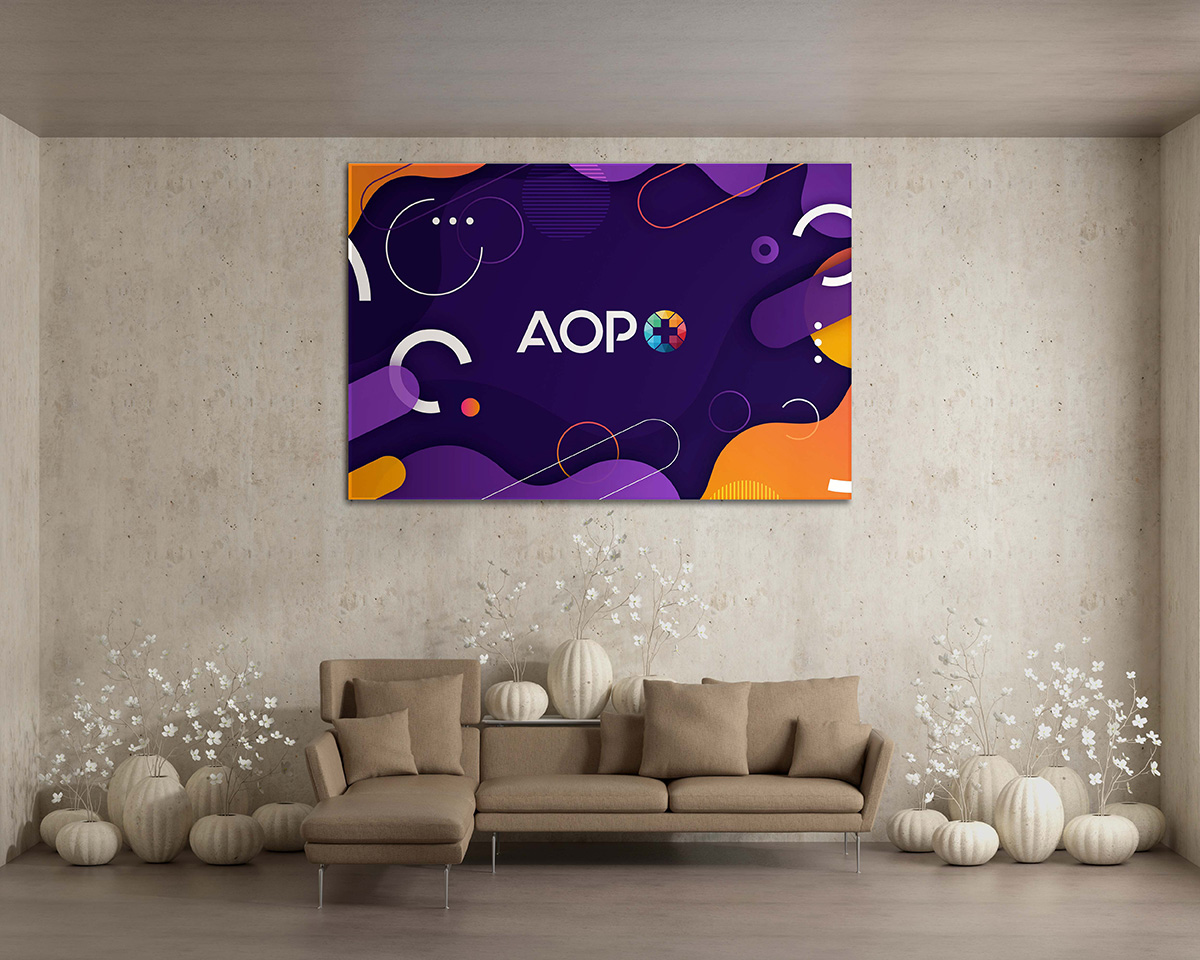 Sell Custom Print-on-Demand Canvas with AOP+
If you've been selling apparel, homewares, footwear or other print-on-demand products in recent years, you'll understand how important it is to offer your customers a unique variety of products.
Sure, t-shirts and other apparel are always going to be great sellers for your print-on-demand store, but adding in some higher margin products like canvas wall art can really boost your revenue.
In this article we'll be discussing all the great reasons you should add custom canvas wall to your Shopify or Etsy store and we'll also give you a few pointers on how to get started.

Why Should I Sell Custom Canvas Wall Art?
There's a good chance that you already know a few reasons why selling custom canvas wall art is a great idea for your eCommerce store, but here's our three favorite reasons why we love them.
Big Impact
Having a stunning piece of wall art on your wall generally makes a big impact. It's usually something that stands our when someone enters the room and makes a statement.
If you can offer your customers a niche-specific and emotion driving piece of artwork then they won't think twice about buying it.
To put it simply, customers love wall art and this makes it easier for you to sell!
Easy to Ship
Of course shipping a canvas is going to cost more than shipping a t-shirt by in comparison to large pieces of framed art, they are very lightweight so even with the added shipping costs they are still a viable product to ship around the world.
Big Profit Margins For Sellers
We know it's getting more difficult for sellers to make a decent profit with their print-on-demand stores, especially when running paid ads on a platform like Facebook or Google.
That's why higher-ticket items like canvas wall art are a great option to sell. They come with a higher price tag yet are very affordable when using a provider like AOP+ as your print-on-demand dropshipping partner.
How To Start Selling Canvas Art with AOP+
Firstly you need to install AOP+ for Shopify or Etsy, or both! You can install AOP+ here.
Once you've installed AOP+ and setup your account, all you need to do is to upload your artwork to the app, publish your product and start selling!
Inside the AOP+ app you can choose the sizes you want and set your pricing.
If you need some help designing your canvas along with more information on using the AOP+ app, we've actually created an entire tutorial on all the technical bits and pieces involved in publishing your first canvas product.
You can check out the full canvas tutorial here.
How is the Canvas Wall Art Made?
We've actually filmed a neat little video showing the process if you want to see the canvas wall art creation in action.
Just like the quality of all our other products, the AOP+ canvas wall art is a premium product that your customers will love.
Here's just a few points about the quality that goes into every canvas:
Bright-white, satin-matte coated cotton rich canvas
Framing pine is sourced from Europe
38mm depth with rounded edges
Gloss, matte & varnish finish
Corner protectors and mounting kit included
Hand-made in London
What Sizes Are Available?
At the time of writing this (October 2021) we currently offer single pieces only but we will be adding multiple piece options to the app very soon. This means you can sell your customers a large "split" canvas of 3 or 5 pieces.
Single canvas sizes currently available are as follows:
8×10″
10×10″
12×12″
12×18″
12×16″
16×16″
18×12″
18×18″
16×20″
20×20″
18×24″
And before you ask, yes they can be flipped to be portrait (vertical) rather than horizontal (landscape) if that suits your artwork better!
And Thats A Wrap! (Pun Intended)
So now you know the benefits of selling canvas wall art, all you need to do is install AOP+ and start selling amazing prints on your Shopify or Etsy store!
Don't forget to test different designs and price points in your niche until you hit the sweet-spot.
If you would like to continue the conversation, we have a friendly Facebook Group where you can network with other AOP+ sellers.
Feel free to join our FB community here.
Thanks for reading, happy selling!