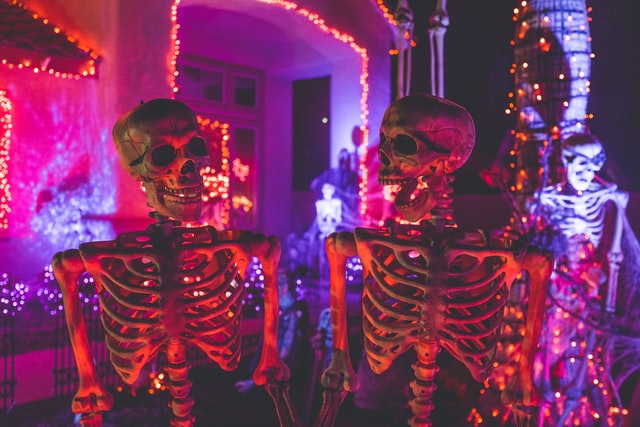 5 Spooky Ideas to Sell More This Halloween
Seasonal holidays, events, and special occasions are great times to launch a new product line and bring in some extra revenue on your Shopify or Etsy store.
The big ones will always be Mother's Day & Father's Day where gifting is the thing to do, but there is also plenty of money to be made on other celebratory occasions such as July 4th, St Patrick's Day, and Halloween.
Because it's partway through September, at the time of writing this guide, we thought you might like to get a start on your Halloween products so you don't miss out!
What Is Halloween?
If you're from certain parts of Europe, Africa, or the Middle East then you might not be overly familiar with Halloween, but there's no doubt you've at least heard of it.
Halloween is celebrated on October 31st and involves scary costumes, haunted houses, and a lot of candy!
Halloween is a very old religious festival that dates back thousands of years. It was originally held to ward of ghosts, but it has evolved a lot over the years.
Nowadays, Halloween is very popular amongst families that like to dress up and roam the streets, knocking on doors and yelling "trick or treat"!
The general custom in places that celebrate Halloween is to have lots of candy and sweets to give to the kids that come knocking at your door, dressed up in their scary costumes.
Fun Fact: One-quarter of all the candy sold each year in the U.S. is purchased for Halloween (source: History.com)
How To Sell More This Halloween
Ok now you've got a little more of the history in your knowledge bank, let's talk about ways you can make the most of Halloween with your print-on-demand store.
Make it Punny
Humor is a great way to get people to buy from you, especially if you're clever too. Puns are a great way to give people a chuckle and increase your chances of making a sale.
This great sweatshirt was found on Coastal Cotton Club's Etsy store
This one is also a bit risqué and would probably turn a lot of heads at Halloween. A little bit of shock factor can also help you boost sales so give that a try, without crossing the line.
Make One For The Whole Family
Putting together a bundle for the entire Family to buy is a great idea for many reasons. Firstly, you'll get a bunch of sales in one transaction, and secondly, it's a really fun and unique idea that Families absolutely love.
Earth Custom are the creators of this cool bundle
Parody
You do need to be very careful if you are doing parody designs, but they can work really well if done right. Just make sure you do your own research and make sure you're not infringing anyone's trademark or copyright.
If you're old enough to remember the classic TV show 'The Golden Girls', you might have a laugh at this one.
This clever design was found on Etsy at NuNuTeeDesign
Make it Personal
This is a similar concept to the Family idea where you can sell multiple items at once, but it's going one step further and offering personalization. Now, this idea takes a little bit of manual design work but if you do it properly you can earn big.
Source: FashionHere
You can also use this personalization idea for parties, sports groups, or anything that involves multiple products with personalization.
Be Niche-Specific
This should be your go-to rule when you sell anything, but that's something I'll write about on another day!
As the saying goes, "the riches are in the niches" and from my experience, it's true.
Rather than just make generic Halloween apparel for your store, try tying them to a specific niche.
This design here would work well amongst the coders, web designers, and nerdy computer crowd.
Source: UnicornWithStyle
Or perhaps something like this in the Nursing niche?
Source: UpfrontDTG
I think you get the idea. Anything niche-specific is always going to sell a lot easier than something general.
How Do I Get Design Ideas?
You'll notice that all of the designs I've included in this article are from Etsy. That's because Etsy is amazing when it comes to researching niches and product design ideas.
All you need to do is type "[Niche] t-shirts" and you'll find thousands of examples.
You can also do this on Amazon & Ebay.
Another great source for inspiration is searching on Pinterest for quotes.
I cannot stress how important it is though that you do not copy or plagiarise other people's ideas. This doesn't mean you can't use a similar saying or quote, but you should always try to give it a unique spin and come up with your own version of it.
This will help you stay out of trouble and it'll also increase your chances of selling more because you will have a unique offering.
When Should I Start Selling Halloween Items?
You need to allow enough time for products to arrive, so you should really start advertising anytime in early to mid-September. Halloween is on October 31st so you can expect sales to slow down around mid to late October.
Whatever you do, make sure you are clear on your delivery time-frames and you stop selling once you know there is no chance for your customer's orders to arrive on time. This will help you avoid disappointed customers and refunds.
Don't forget that AOP+ has both a Shopify and Etsy integration so we can help you sell on both platforms! If you haven't already started your print-on-demand store with AOP+, you can do so by clicking here.
Thanks again for reading and good luck with your Halloween sales and be sure to check out our 2021 Q4 event calendar!