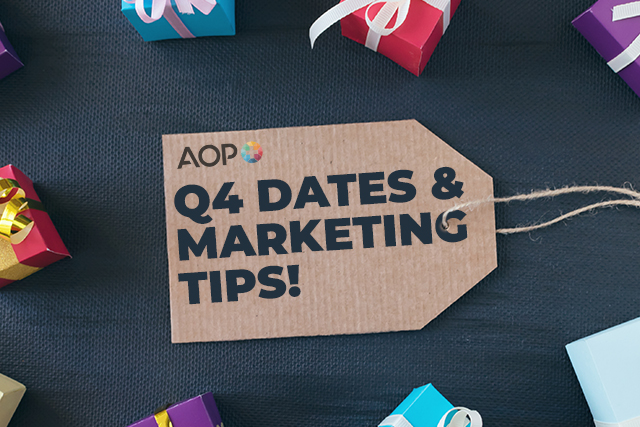 Q4 Calendar and Marketing Tips for 2022
The 4th quarter of the calendar year, October, November and December, is considered as the biggest selling season for both online and brick and mortar retailers.
Referred to as Q4, there's some key dates that print-on-demand sellers need to know about during this period so they can plan their marketing activities accordingly.
Key Q4 Dates
Within this busy period there are some important events and days that all online sellers should be aware of.
Halloween
Occurring on 31st October, Halloween is a huge celebration in most Western nations. Print-on-demand products are very popular leading up to this event, so make sure you start promoting Halloween products as early as mid-September to ensure you can build enough traction and get products printed and shipped out to your customers before the 31st.
Veteran's Day (US)
A big celebration in the USA, Veteran's day honors all of those who served in the Military on the 11th November.
Thanksgiving (US)
Thanksgiving in the USA is held on the fourth Thursday in November which is the 24th of November this year, 2022.
Black Friday
Black Friday was once traditionally a brick and mortar store event but it has since become a huge event online, marking the start of what's called BFCM – Black Friday and Cyber Monday weekend.
Black Friday is always the day after Thanksgiving, which is the 25th November 2022.
Cyber Monday
Cyber Monday is generally the final sales day of the BFCM weekend, Monday 28th November 2022, however many online retailers extend their sales promotions for this entire week. This is often referred to as Cyber Week.
Christmas Day
Celebrated by most of the world on 25th December, Christmas day is by far the biggest gift giving day of the year. The entire season leading up to Christmas however is when you need to be selling anything and everything on your print-on-demand store.
Most people like to get their Christmas shopping done early and if they're doing it online, make sure you have appropriate cut-off dates advertised on your online stores.
Boxing Day
Boxing day is usually only celebrated in Commonwealth nations such as the UK, Canada, Australia and New Zealand. It is the day after Christmas, 26th December. If you are running ads or promotions to those countries, you most definitely want to have a Boxing Day Sale.
New Years Eve / Day
The week between Christmas Day and New Years Eve, 31st December, are generally quiet selling times however clever sellers can always run special New Years promotions to squeeze out more sales.
Tips For Selling More this Q4
The hardest part of the Q4 season is the fact that every single advertiser is spending big, so ads on platforms like Facebook can get expensive.
The key here is to offer appealing deals to your customers and put in some groundwork leading up to Q4.
Here's a few ideas to help you out:
Use an Upsell App
If you're sending traffic to your store you may as well make every attempt to sell more in the one transaction! The best app for this is Monster Upsell.
Run a Giveaway
Running regular giveaways throughout the year is a good practice because it helps build your email list. I wouldn't recommend running a giveaway during Q4, but just prior to the crazy season is fine.
You can simply create an optin page on your Shopify or BigCommerce store or if you prefer to step things up a level and use an app, we love Gleam and Social Boost.
Email Automation
Definitely do not leave your Q4 email marketing strategy to the last minute! Put in place a series of emails with urgency reminders so customers know that your sales are ending.
Don't be afraid of emailing too much either. Sending more than 1 email per day during the BFCM is completely acceptable, so don't be afraid of losing subscribers. It happens, but you'll also sell a lot more if you are heavy on the email marketing during this period.
It's hard to beat Klaviyo when it comes email marketing for your print-on-demand store.
And That's a Wrap!
We hope that this Q4 marketing guide has helped you plan out a rough idea of what you're going to do to maximize sales this year.
Our number one tip is to start now, don't leave it too late!